I got bored inside, so here I am again. My wife popped out to the shed to see what was happening, and got a guided tour of the assembly to date.
Installing the Y-axis
It took very little time to get the Y-axis installed, completed with belt. I then quickly installed the X-axis belt while I thought I knew what I was doing. As said before, the bed is going in later.
Fitting the electronics
Having a moving cartesian frame and a seperate set of mounted electronics will only drive one insane, so the next step was...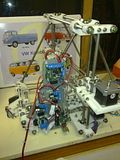 And it works!!!!
Well ok, I only connect the X-axis, but at least I'll be able to sleep tonight (sort of).