Following on from the weekend's progress, on Wednesday I was at home for the day due to the school being shut so managed to make some more progress.
The extra Mira 4400 I ordered had arrived so I completed the tanking of the bathroom/showerroom. The bits that still needed doing were the inside of the vanity cupboard and the floor. At the same time I drilled the hole for the shower drain. This is larger than the original shower drain as I managed to get a suitable low profile trap from Ebay. I thought the original small shower drain would be a bit slower than ideal and this will look better.
I also managed to continue work on the rear passenger seats. I made up some plates out of left over stainless which would mount under the floor. I welded captive nuts to these and painted the welded areas. Tonight Lorraine helped me fit them by screwing in the bolts from the top while I lay on my back underneath and aligned the plates.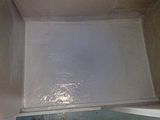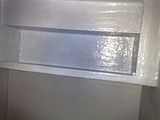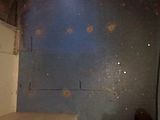 Tomorrow I can tighten these up and fit the actual seat and seatbelt post.
Yesterday I also managed to order the calorifier, expansion tank and accumulator for the hot water system, I also bought a table leg from the same supplier (Surejust). All the bits arrived tonight. I'm very impressed, see the pictures below. The expansion tank and accumulator are the same products, but pre-loaded to different pressures. The expansion tank is setup to be fitted after the calorifier and deals with the expansion of the hot water. The accumulator goes on the cold water side and helps stop the pump from pulsing on and off all the time (i.e. equalises the flow).
This weekend I hope to figure out how everything will mount then I can buy the piping and fittings, etc.
The pictures below show all of these bits and also the Eberspacher which will be used to heat the water when the vehicle engine isn't running.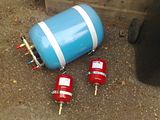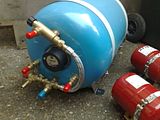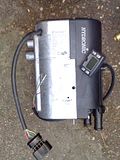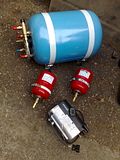 Below is the table leg I bought. I bought this as the DVLA and insurance require a fixable/detachable table for the conversion and there isn't a suitable wall to fit one to.